---
The Scale Shipyard About The Scale Shipyard
About The Scale Shipyard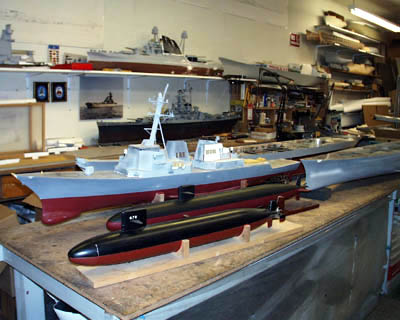 The Scale Shipyard is the world's largest producer of high quality fiberglass hulls and resin detail parts for ship modelers. Since 1979 we have been designing, building and offering the highest quality parts for the professional and hobbyist. The company was founded by Wm. Lee Upshaw when, as an avid builder of model ships, he could not find high quality parts or kits for the ships he wished to make.
Our goal from the very beginning has been to make the highest possible quality parts at a price a serious modeler could afford. We accomplish this through extensive research and strictly adhering to official sources and shipyard drawings to construct our master patterns. The same quality hulls and fittings that are available to you can be found in prestigious museums and in the US Navy's research laboratories.
From the drafting table to the finished product, quality craftsmanship and attention to detail is lavished in each step of the process. Our custom built hulls are hand laid (not mechanically shot into a mold with a "chopper gun". We build are hulls using one layer of fiberglass cloth over another layer of matt for unmatched strength while still maintaining the light weight critical for operational models.
Most of our hulls come with a set of plans to help you complete the model. We also offer an extensive line of polymer and white metal fittings, weapons kits, photoetched parts and many other accessories to help you complete your project.
Wm. Lee Upshaw, Owner
Please feel free to explore the site, and search through our Catalog. If you have questions, please email us.
Version 2.11 © Copyright 2015 by the Scale Shipyard.
430